I am excited to introduce my friend, Kerri Pulliam Johnson, who has authored these wonderful books on inner healing and transformation.
(The following links will open a new window in Amazon. As an Amazon Associate, Janet earns from qualifying purchases.)
I Feel Everything! Living in an Amplified World — Kerri Pulliam Johnson
For those of us who are sensitive and pick up the emotions of those around us, this book helps us navigate by learning to invite Jesus into these burdens that we feel.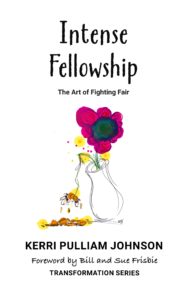 Intense Fellowship: The Art of Fighting Fair — Kerri Pulliam Johnson
Every relationship has its struggles — especially marriage. The problem isn't that couples fight. It's that they've never learned how to fight fair. This amazing guidebook will walk you step by step through how to fight fair for the sake of your marriage and really any significant relationships in your life.
Symphony of Heart & Mind: Helping You Express Emotions and Think under Pressure — Kerri Pulliam Johnson
Sometimes we have experiences, especially when we are young, that cause us to start living out of only (or primarily) our heart or our mind. Yet God created us to live in our heart-and-mind working in symphony together. If you feel like you live mostly in your mind and have trouble expressing your emotions, or if you feel like you live only in your heart and having trouble using your mind, this book will help you come back into the symphony or heart and mind that God intends for you.
Are You Feeling Stuck? Captivity Is a Real Place — Kerri Pulliam Johnson
If you've ever felt like you live on the outside looking in, and just can't seem to be fully present in your life, it's possible that you locked away your spirit in response to trauma, especially early in your life. This book will help you discover this phenomenon known as spiritual captivity. If you feel like your spirit is captive, this book will walk with you through prayer as Jesus sets you free!
*****
You can learn more about Kerri and her ministry by visiting Kerri Johnson Ministries.